SHADOW WORKS: Trotting Shadow I (Ram Ladies)(2015)
Created for a Year of the Sheep exhibition to celebrate Chinese New Year in QPark Chinatown, London (curated by Vanya Balogh), this piece is based on the ancient Chinese Trotting Horse lamps, one of the moving image technologies that anticipated cinema. It spins through the heat of a light bulb and projects multiple silhouettes of Birgitta Hosea performing as the Ram Ladies. Thanks so much to Chunning Guo for her help in working out how to make it!
Shadow Puppet I (2014)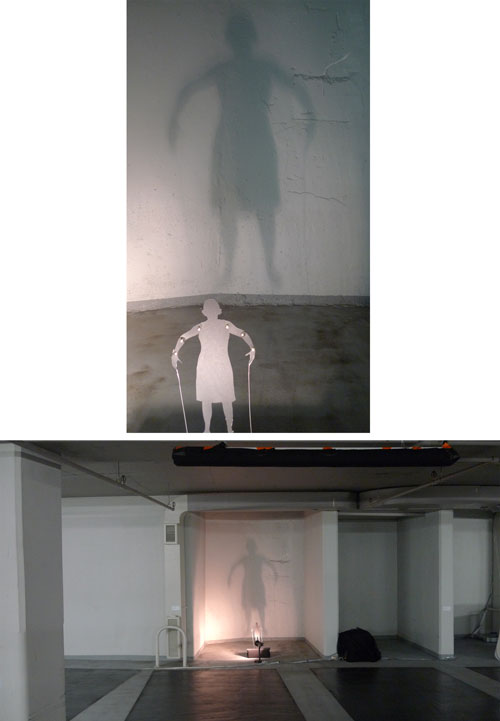 A piece of work created in response to an invitation from curator, Sarah Sparkes, to create a life sized self-portrait in three-dimensions that takes the form of a toy for an exhibition in the Q-Park underground car park.
Reviews:
"...the delicateness of Birgitta Hosea's simple shadow puppet piece that makes use of the dark concrete environment so perfectly..."
© The Organ 2014
"Birgitta Hosea's simple yet rather effective 'Shadow Puppet 1' acts as a kind of signifier for the now overlaid history of the basement in which the car park - and exhibition resides. The subterranean history of London in all it's clichéd Gothic glory is evoked in the theatrical use of the shadow and the cheap Victorian stage trick. It might be a 'one note' work; but it is quite aptly site-specific."
Paul Black © Artlyst 2014
Rapid video around whole exhibition: http://youtu.be/5x43KaJmzyA
Shadow Play (2014)
Created for Shadow Voices, an exhibition of shadow works in the Natavan Gallery, Baku, Azerbaijan (curated by Birgitta Hosea).

For more information on workshops that Birgitta runs in shadowgraphy click hre: Shadow Workshops.